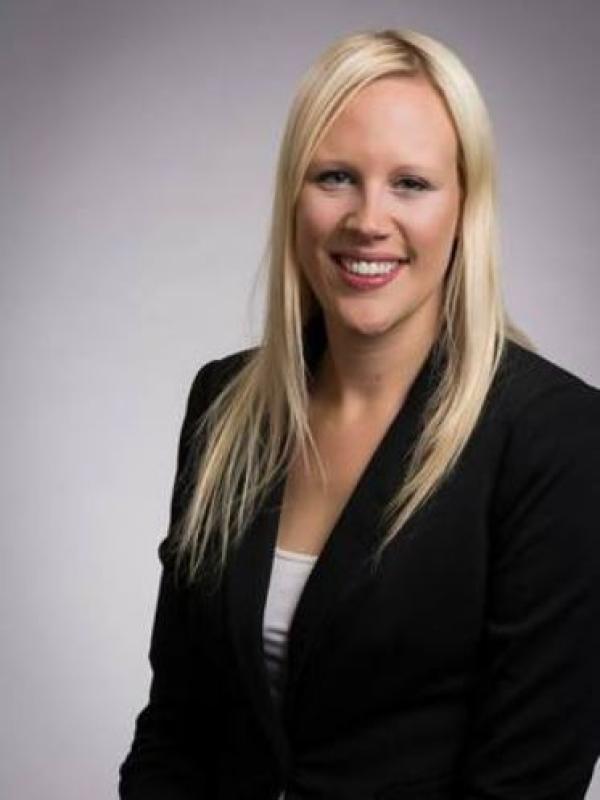 Hollie Nzitatira
Associate Professor of Sociology
162 Townshend Hall
1885 Neil Avenue Mall
Columbus OH 43210
Education
Ph.D., University of Minnesota-Twin Cities, Sociology (2014)
M.A., University of Minnesota-Twin Cities, Sociology (2012)
B.A., University of Wisconsin-La Crosse, Socology and Political Science (2008)
Teaching/Research
Hollie Nzitatira is an associate professor of sociology at The Ohio State University. Her research agenda is motivated by the fundamental questions of why and how atrocities occur and who commits them. She is equally interested in the process of transitional justice after atrocities, including how societies rebuild, how international actors respond to the violence, and the lasting effects of mass violence. In other words, Nzitatira studies multiple processes of mass violence, human rights violations, and mass crime — why they occur, how they occur, their effects, and responses to them. 
Nzitatira is currently working on two major research projects, funded by two grants from the National Science Foundation. These projects examine Rwanda's post-genocide gacaca courts and the reentry and reintegration processes of those sentenced to prison by these courts. 
Her ongoing book project analyzes subnational determinants of violence in Rwanda, Bosnia-Herzogivina, and Sudan; and her scholarship was recently awarded the 2017 Emerging Scholar Prize from the International Association of Genocide Scholars and the 2018 Ruth Shonle Cavan Young Scholar Award from the American Society of Criminology. 
At Ohio State, Nzitatira teaches classes on global crime, violence, and terrorism. She also created and lead a study abroad class called Genocide and Its Aftermath in Rwanda. Her teaching has been awarded the Ohio State College of Arts and Sciences Outstanding Teaching Award, which is given to one of the college's 500 faculty members annually, and the Ohio State Alumni Award for Distinguished Teaching, which is the university's highest teaching honor. 
She is on the advisory board of the International Association of Genocide Scholars. She also serves on the board of Refuge, a nonprofit organization dedicated to providing adolescent refugees access to higher education, and as a core member of I-Activism, which provides humanitarian action for refugees who fled the genocide in Darfur. 
Faculty Links
Curriculum Vitae (pdf)
Department web page
Media Links
Mershon Center: Four Mershon affiliates featured in latest issue of Ascent (2018)
Arts and Sciences: Resilience in the Aftermath of Genocide (2018)
Sociology: Nyseth Brehm receives Ruth Shonle Cavan Young Scholar Award (2018)
Mershon Center: Brooks, Nyseth Brehm win faculty recognitions (2018)
Research News: Who becomes a hero? It is more than just a personality trait (2018)
Sociology: Dr. Nyseth Brehm awarded 3 year grant from NSF (2017)
Arts and Sciences: ASC Spotlight: Hollie Nyseth Brehm (2017)
Research News: Perpetrators of genocide say they're 'good people' (2017)
Mershon Center: Nyseth Brehm named emerging scholar by genocide study group (2017)
Sociology: Nyseth Brehm wins IAGS emerging scholar prize (2017)
Mershon Center: Nyseth Brehm, Shuman win distinguished teaching awards (2016)
Mershon Center: Nyseth Brehm, Carlarne headline TEDx Ohio State (2016)
Sociology Department: Sociologist Makes Her Mark at Ohio State and Around the Globe (2016)
Buckeye Voices: What Ohio State can do about the refugee crisis (2016)
Mershon Center: Nyseth Brehm, Shuman win distinguished teaching award (2016)
Sociology Department: Nyseth Brehm receives Alumni Distinguished Teaching Award (2016)
Buckeye Voices: Never Again (2015)
Criminal Justice Research Center: An Interview with Hollie Nyseth Brehm (2015)
Arts and Sciences: Sociologist Studies Mass Murder to Predict and Prevent Genocide (2014)
Mershon Projects
Triggers of Non-State Mass Killings, with Amanda Robinson (2017-18)
Genocide, Justice, and Rwanda's Gacaca Courts (2014-15)