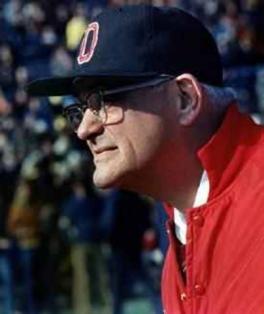 Ohio State's beloved football coach Wayne Woodrow "Woody" Hayes was not only a fierce competitor on the field, but was also an active and astute observer of military history and national security. He was interested in both athletics and academics, a combination that enhances the legacy he has left Ohio State.
As a veteran of World War II, Coach Hayes had a strong interest in military strategy. Among other things, he hosted a local television program that discussed national security in a historical perspective and guest lectured on the topic at colleges and universities around the United States, including Harvard University.
After his death, the university community proposed making an academic tribute to Coach Hayes. Honoring his commitment to the academic fields he was interested in was "beyond his wildest dreams," said his widow, Anne Hayes.
Through the efforts of Coach Hayes' widow, Anne; his son, Judge Steven B. Hayes; his many friends and admirers; and the university community, the campaign to fund the Wayne Woodrow Hayes Chair of National Security Studies was completed in 2001.
The income from this endowment provides funds for the Mershon Center to be home to a high-profile, tenured professor who conducts research and educates a new generation in the issues of national security studies.
Current Chair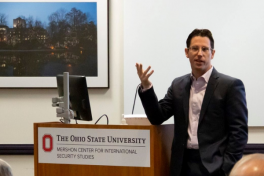 The current Hayes Chair is Christopher McKnight Nichols; a scholar of the U.S.'s role in the world from the Gilded Age and Progressive Era to the present, with an emphasis on isolationism, internationalism, and globalization.
He is best known for authoring Promise and Peril: America at the Dawn of a Global Age (Harvard, 2011, 2015), and he is editor or author of five other books, including the recently published Rethinking American Grand Strategy (Oxford, 2021), co-edited with Elizabeth Borgwardt and Andrew Preston. Nichols' upcoming book will be Ideology in U.S. Foreign Relations: New Histories (Columbia, 2022), co-edited with David Milne.
He is working on several new books, including an exploration of the election of 1952 in terms of early Cold War foreign and domestic policy and a sweeping study of global anti-imperialism. Nichols has published and lectured extensively on U.S. foreign policy, political, and intellectual history, and the 1918 flu pandemic.
Nichols received a prestigious Andrew Carnegie Fellowship and currently serves as an appointed Organization of American Historians (OAH) Distinguished Lecturer. He is a frequent commentator on U.S. foreign policy and politics in historical perspective, often writes for the Washington Post, and provides analysis at the intersection of policymakers, public, and scholarly audiences. Nichols is a permanent member of the Council on Foreign Relations.
A dedicated teacher and mentor, Nichols' popular courses have included those on U.S. Diplomatic History, Religion and US Foreign Relations, and American Political History. Nichols sees his public work as an extension of his dedication to teaching. He often talks and does workshops for community groups and teachers and is a frequent commentator on the historical dimensions of current U.S. politics and foreign policy, often appearing on NPR and in the Washington Post.