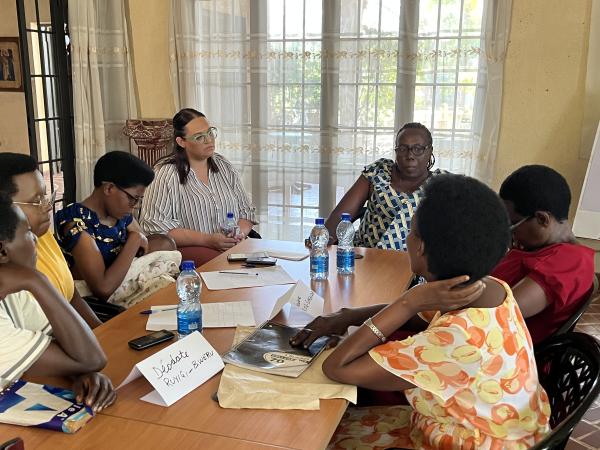 Overview
Program Partners: United Nations Peacebuilding Fund, The Ministry of National Solidarity, Human Rights and Gender, Christian Aid Burundi, University of Burundi, Concertation des collectifs des Associations Féminines de la Region des Grands-Lacs, Dushirehamwe, Réseau Femmes et Paix, Youth Empowerment and Leadership Initiative, BujaHub
Mershon has been working with local partners in Burundi since 2019 to analyze the root causes of gender inequality and identify the barriers to women's meaningful participation in conflict prevention and peacebuilding. During July 2023, evidence from the project was used to launch a new United Nations Peacebuilding Fund program, "Bakenyezi, dukenyerere amahoro": Promoting Displaced, IDP and Returnee Women's Empowerment and Public Participation. In the fourth phase of this research collaboration, Mershon will support local leaders to strengthen programs and policies that address the systematic exclusion of marginalized women from public and decision-making spaces due to discriminatory social norms, violence and economic induced displacement, and institutional/cultural practices that weaken women's agency.
The three Outcome Goals for the project are:
The institutional capacity of local returnee, IDP, and host women-led networks in Rutana and Ruyigii Provinces are strengthened to effectively operate and manage their associations.
There is increased participation in decision-making spaces at local, regional, and national levels to strengthen institutional gender equality.
Harmful social/gender norms within households have been transformed and new approaches for gender equality have been adopted.
Summer 23' Field Research Snapshot
Teri Murphy and Kara Hooser traveled to Burundi to co-facilitate working groups consisting of over 100 national, provincial, district, and colline-level leaders. Representatives from the Burundi Ministry of Solidarity, Human Rights, and Gender participated. After mapping the interlocking systems of socialization, gender roles, norms, and beliefs, the groups workshopped strategies for transforming gender relations.