Image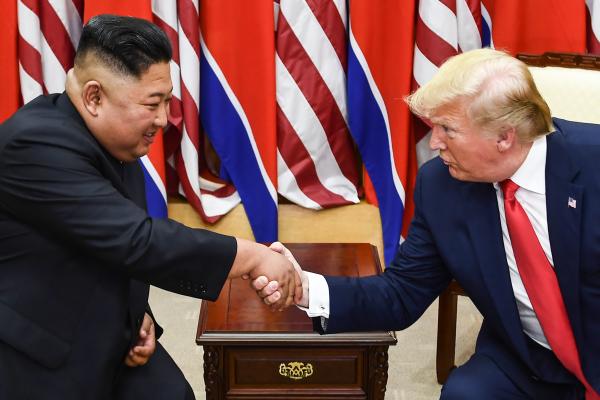 Description
During the 2016 election, Donald Trump made clear his contempt for the state of American foreign policy, with the Korean Peninsula coming in for particular criticism. After his election, Trump pledged to employ new approaches to bring DPRK belligerency under control, including a willingness to meet President Kim Jong Un for face-to-face talks and a re-start of negotiations, while also suggesting an increased willingness to use force if necessary. South Korean policy also came in for criticism, as Trump repeatedly castigated this traditional ally for not contributing enough to the alliance and for taking advantage of American generosity. Here, too, he followed new paths, ones that quickly sparked diplomatic turbulence over issues like trade agreements, the costs of the American military deployment, the transfer of wartime operational control, the drawdown and even cancellation of some joint military exercises, and the costs of the THAAD missile system. Considering the importance of both Koreas––and of East Asia as a whole––to American foreign relations and world stability, this event will bring together some of the world's leading authorities on US-Korean relations for a day of presentations and discussions. 
Advanced
Text
If you require an accommodation such as live captioning or interpretation to participate in this event, please contact Kyle McCray, mccray.44@osu.edu. Requests made two weeks before the event will generally allow us to provide seamless access, but the university will make every effort to meet requests made after this date.
Accordion Header

Speakers
Text
David Cheng Chang is Associate Professor of History at the Hong Kong University of Science and Technology. He received his Ph.D. in modern Chinese history from the University of California, San Diego in 2011, his M.A. in East Asian studies from Stanford University in 2006, and his B.A. in economics and international studies from the University of Michigan-Ann Arbor in 1998. Prior to joining HKUST, he was a postdoctoral fellow at the Center for East Asian Studies, Stanford University. He is the author of The Hijacked War: The Story of Chinese POWs in the Korean War (Stanford, 2019).
Text
Sandra Fahy is Associate Professor of Social and Cultural Anthropology at Sophia University in Tokyo. She took her PhD from the University of London's School of Oriental And African Studies. Her publications include Marching Through Suffering: Loss and Survival in North Korea (Columbia, 2015), and Dying for Rights: Putting North Korea's Human Rights Abuses on the Record (Columbia, 2019). She is currently a visiting fellow at Harvard Law School's Program for Human Rights.
Text
Kyle Ferrier is a Fellow and Director of Academic Affairs at the Korea Economic Institute of America. He writes on U.S.-Korea relations, South Korean foreign affairs, South Korean domestic and international economic policy, and the political economy of the Indo-Pacific. Kyle is also a regular contributor to the Koreas section for The Diplomat. Before joining KEI, he earned a Master of Science in International Political Economy from the London School of Economics and was a Fulbright English Teaching Assistant in South Korea. 
Text
David Fields is Associate Director of the Center for East Asian Studies at the University of Wisconsin. He is the author of Foreign Friends: Syngman Rhee, American Exceptionalism, and the Division of Korea, and the editor of The Diary of Syngman Rhee, 1904–34, 1944, published by the National Museum of Korean Contemporary History. Since 2015 he has been the book review editor of the Journal of American-East Asian Relations.
Text
Fintan Hoey is Associate Professor of History at Franklin University Switzerland. He is the author of Sato, America and the Cold War: U.S.-Japanese Relations, 1964-1972 which was published by Palgrave Macmillan in 2015. He was a Swiss National Science Foundation funded fellow at the Woodrow Wilson International Center for Scholars, Washington, DC in Spring 2019. His current research is focused on Japanese policies regarding nuclear weapons and nuclear power. 
Text
Go Myong Hyun is a research fellow at the Asan Institute for Policy Studies. Previously, he was a postdoctoral researcher at the University of California, Los Angeles, Neuropsychiatry Institute. Dr. Go's latest publications include "In China's Shadow: Exposing North Korean Overseas Network" (2016) and "The Prevalence of Deaths and Disease in Chongori Prison" (in Korean, 2017). He is a Munich Young Leader of Munich Security Conference and received his Ph.D. in policy analysis from the Pardee RAND Graduate School.
Text
David Kang is the Maria Crutcher Professor in International Relations, Business and East Asian Languages and Cultures and Director of the Korean Studies Institute at the University of Southern California. Kang's latest book is American Grand Strategy and East Asian Security in the 21st Century (Cambridge University Press, 2017). He is also author of East Asia Before the West: Five Centuries of Trade and Tribute (Columbia University Press, 2010); China Rising: Peace, Power, and Order in East Asia (Columbia University Press, 2007); Crony Capitalism: Corruption and Development in South Korea and the Philippines (Cambridge University Press, 2002); and Nuclear North Korea: A Debate on Engagement Strategies, co-authored with Victor Cha (Columbia University Press, 2003). 
Text
Stephanie Kang is a postdoctoral scholar in the Department of Political Science at the University of California, Davis. Her research interests lie in international security and alliance politics, with a regional focus in East Asia. In particular, she studies why defense cooperation between countries varies and how such variation influences the strategic environment of actors in dispute. Stephanie's research has been funded by the Fulbright Program, the Korea Foundation, and the U.S. Department of Education.
Text
Jean Lee is Director of the Hyundai Motor-Korea Foundation Center for Korean History and Public Policy at the Woodrow Wilson Center for Scholars. She is a Pulitzer-nominated veteran foreign correspondent and expert on North Korea. Lee led the Associated Press news agency's coverage of the Korean Peninsula as bureau chief from 2008 to 2013. In 2011, she became the first American reporter granted extensive access on the ground in North Korea, and in January 2012 opened AP's Pyongyang bureau, the only Western text/photo news bureau based in the North Korean capital. She served as a Wilson Center Public Policy Scholar and Global Fellow before joining the Asia Program as Korea Center program director. 
Text
Mitchell Lerner is Professor of History and director of the East Asian Studies Center at the Ohio State University, where he is also a fellow at the Mershon Center for International Security Studies. He is the author of The Pueblo Incident: A Spy Ship and the Failure of American Foreign Policy, which won the John Lyman Book Prize, and has published articles in many journals, including The Journal of East Asian Affairs, Diplomatic History, Diplomacy & Statecraft, The Seoul Journal of Korean Studies, The Journal of Military History, and The Journal of Cold War Studies. He has been a fellow at the Miller Center for Public Affairs at the University of Virginia and held the Mary Ball Washington Distinguished Fulbright Chair at UC-Dublin.
Text
CedarBough T. Saeji is a visiting assistant professor in the Department of East Asian Languages and Cultures at Indiana University, Bloomington. She earned her MA in Korean Studies from Yonsei University in 2006, and a PhD in Culture and Performance from UCLA in 2012, and has taught at University of British Columbia, Korea University, and Hankuk University of Foreign Studies. She has published in a wide range of journals, including Acta Koreana, Korea Journal, and the Journal of Korean Studies. She is currently serving on the board of the Committee for Korean Studies (of the AAS), and finishing a book on cultural policy and heritage performance. 
Text
Kathleen Stephens: Ambassador Stephens was a career diplomat in the United States Foreign Service. She served as U.S. Ambassador to the Republic of Korea from 2008-2011, the first woman and first Korean-speaker to serve in that position. Other overseas assignments included postings to China, former Yugoslavia, Portugal, Northern Ireland, where she was U.S. Consul General in Belfast during the negotiations culminating in the 1998 Good Friday Agreement, and India, where she was U.S. Charge 'd Affaires (2014-2015). Ambassador Stephens served in a number of policy positions in Washington at the Department of State and the White House. These included acting Under Secretary of State for Public Diplomacy and Public Affairs (2012), Principal Deputy Assistant Secretary of State for East Asian and Pacific Affairs (2005-2007), Deputy Assistant Secretary of State for European and Eurasian Affairs (2003-2005), and National Security Council Director for European Affairs at the Clinton White House. Stephens was William J. Perry Fellow for Korea at Stanford University's Shorenstein Asia Pacific Research Center, 2015-2018.  She has also been Endowed Chair Professor for Language and Diplomacy at Hankuk University of Foreign Studies in Seoul, and Senior State Department Fellow at Georgetown University's Institute for the Study of Diplomacy. She is a Mansfield Foundation Distinguished Fellow, Pacific Century Institute Board Chairman, Vice-chair of the Board of Trustees of The Asia Foundation, and on the board of The Korea Society. She is currently the director of the Korea Economic Institute of America.
Text
William Stueck is Professor Emeritus from the University of Georgia, where he was Distinguished Research Professor of History. He also served as a Senior Fulbright Scholar at Hankuk University of Foreign Studies in Seoul. Among his publications are Rethinking the Korean War (Princeton University Press, 2002) and The Korean War: An International History (Princeton University, 1995).
Text
Clint Work is a Fellow with the Stimson Center, jointly appointed to its Security for a New Century program and 38 North. Prior to joining Stimson, he was an assistant professor at the University of Utah's Asia Campus in South Korea and the regular foreign policy writer for The Diplomat Magazine's Koreas page. He holds a Doctorate in International Studies from the University of Washington and a Master's in International Relations from the University of Chicago, and his work focuses on the Korean Peninsula, U.S.-Korean relations, East Asia, and U.S. foreign policy.
Text
Steven Denney is postdoctoral research fellow in the Innovation Policy Lab at the Munk School of Global Affairs and Public Policy, University of Toronto, Canada, and a senior policy analyst at the Brookfield Institute for Innovation and Entrepreneurship. His research covers the fields of migration, identity, and entrepreneurship. He has received research grants and fellowships for his studies on Korea and the Asia Pacific, ranging from the United Nations, the Institute for Unification Education, the Academy of Korean Studies (AKS), and the UniKorea Foundation, among others. His latest publication (with Peter Ward and Christopher Green, 2020) is The limits of ethnic capital: impacts of social desirability on Korean views of co-ethnic immigration, published in the Journal of Ethnic and Migration Studies.
---