June 23, 2022
2020 Furniss Book Award Winner Announced
Image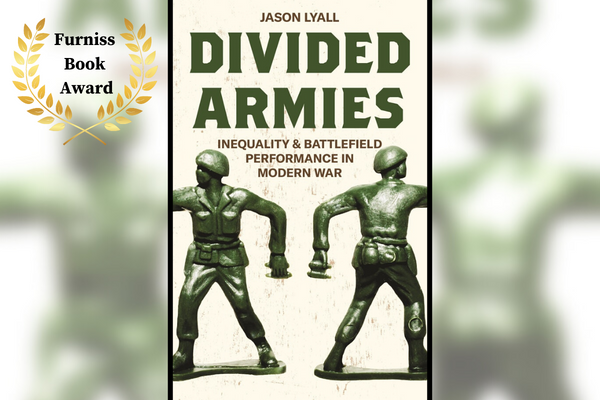 Description
We are pleased to announce the 2020 Edgar S. Furniss Book Award has been granted to Jason Lyall for his book Divided Armies: Inequality and Battlefield Performance in Modern War (Princeton University Press). 
The Edgar S. Furniss Book Award commemorates the founding director of the Mershon Center and is given annually to an author whose first book makes an exceptional contribution to the study of national and international security. The award considers any work that makes a theoretical and policy impact on our understanding any of the following themes:
The use of force and diplomacy 
The ideas, identities, and decisional processes that affect security 
The institutions that manage violent conflicts.
The selection committee was made up of four Mershon faculty fellows; Geoffrey Parker (committee head and Andreas Dorpalen Professor of History), Bear Braumoeller (Professor of Political Science), Laura Dugan (Ralph D. Mershon Professor of Human Security, Professor of Sociology), and Amy Shuman (Professor of English).
"This is the most amazing first book I've read for a very long time, if ever. This reflects the time and thought Lyall has devoted to the subject," said Geoffrey Parker, Mershon Faculty Fellow and lead of the Furniss Book Award Committee. "… his book puts forward a bold and plausible theory: the concept of military inequality."
In Divided Armies, Lyall takes a unique position to the classic question "How do armies fight and what makes them victorious on the modern battlefield?" He links the fate of armies to their levels of inequality.
In his breakout book, Lyall introduces the concept of military inequality, demonstrating how a state's prewar choices about the citizenship status of ethnic groups within its population determine subsequent battlefield performance.
"Dr. Lyall identifies a key dimension in armies that has been ignored and shows just how instrumental it has been to how armies perform in battle. He created a new term, battlefield performance, and cleverly created a metric to avoid tautology, Battlefield Performance Index (BPI) to measure this. The theory itself is critical. Inequality has poisoned so many institutions and why should militaries be exempt. And, why has nobody considered this before? He beautifully lays out the mechanisms and uncovers those mechanisms in the empirical studies."

- Laura Dugan, Ralph D. Mershon Professor of Human Security, Professor of Sociology
"This book explores the role of pre-existing ethnic hostilities and other inequalities in military conflict. Lyall's close examination of battlefield conflict and wartime dynamics seems (to me) to unlock very important explanations for why some armies fail. The research is extensive, and the book is also very well-written."

- Amy Shuman, Professor of English 
Lyall will give a lecture to the Mershon community on his book November 10 at 3:30 p.m. ET. To register for this event, click here.
---