September 19, 2023
2022 Furniss Book Award goes to From the Ashes of History by Adam B. Lerner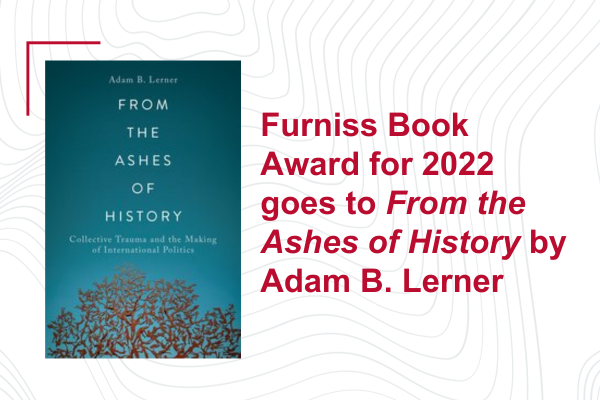 The Mershon Center for International Security Studies at the Ohio State University is delighted to announce that the latest recipient of the Edgar S. Furniss Book Award is Adam B. Lerner, for his book From the Ashes of History: Collective Trauma and the Making of International Politics (Oxford University Press, 2022).
Commemorating the founding director of the Mershon Center, the Furniss Award is conferred annually on an author's first book that makes an exceptional contribution to the study of international, national, and/or human security. The current award is for a book published in the calendar year of 2022.
The committee, representing four disciplines, described the winning entry as follows.
This book offers a multidisciplinary, multilevel framework for understanding the profound and often overlooked impact of mass violence on international politics. Mass violence is typically regarded as an episode in history that passes through phases and then disappears. Yet this book's framework shows how its consequences will unexpectedly reemerge as collective trauma, which can destabilize expected patterns delineated in theories of International Relations. The book is ambitious, calling for readers to rethink the foundations of international politics, and Lerner delivers with sound theoretical arguments that are empirically demonstrated in three case studies that rely upon critical discourse analysis and an impressive range of primary sources. Many books that are strong theoretically are weak empirically, but this one has both.
Lerner's visit to Ohio State for the award presentation and lecture will take place in Spring 2024.
Adam B. Lerner is Associate Professor of Political Science and Director of the Bachelor of Liberal Arts Program at the University of Massachusetts Lowell. His research sits at the intersection of International Relations and Political Theory, focusing on the legacy of historical injustice in the international system and mechanisms for global repair and reconciliation. His work has appeared in multiple refereed journals, including International Studies Quarterly, European Journal of International Relations, International Affairs, Perspectives on Politics, Journal of Contemporary Asia, and International Theory. He was previously a Senior Lecturer at Royal Holloway, University of London, and he earned his PhD and MPhil at the University of Cambridge. Prior to his graduate studies, he worked as a reporter at Politico and a Henry Luce Scholar at The Caravan in Delhi, India.
---