January 6, 2022
Christopher McKnight Nichols Appointed Wayne Woodrow Hayes Chair of National Security Studies
Image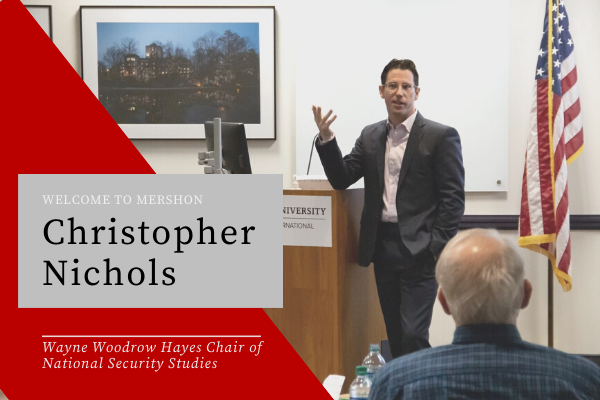 Description
The Mershon Center is pleased to announce the appointment of Christopher McKnight Nichols as the Wayne Woodrow Hayes Chair of National Security Studies, pending Board of Trustees approval, starting in June 2022. In this role, Nichols will provide intellectual leadership to the research conducted at the Mershon Center through his research, programming, and outreach activities including speaking engagements.
In addition to his appointment as Hayes Chair, Nichols joins the Ohio State History Department as a tenured professor of history.
"We are thrilled to have Dr. Nichols joining our Mershon team. His research profile on the social roots of American foreign policy will bolster our expertise in U.S. national security while also broadening our understanding of what constitutes national security," said Mershon Center Director Christopher Gelpi. "Additionally, his experience as the leader of an interdisciplinary research center at Oregon State will help to strengthen our ability to promote and sustain interdisciplinary engagement, and his record of public-facing scholarship and community outreach will hopefully improve our ability to connect Mershon's research to current policy problems and to those engaged in policy making outside of academia."
Nichols comes to this role from Oregon State University, where he spent a decade teaching and conducting research. At Oregon State, he most recently served as director of the Center for the Humanities and the Sandy and Elva Sanders eminent professor in the honors college, and associate professor of history.
Prior to his time at Oregon State, Nichols was Andrew W. Mellon Postdoctoral Fellow at the University of Pennsylvania (2009-12) and a Postdoctoral Fellow at the Institute for Advanced Studies in Culture (University of Virginia, 2008-09). Nichols was educated at Harvard College, Wesleyan University, and the University of Virginia (PhD in U.S. History, May 2008).
"I am thrilled to be coming to The Ohio State University to join the exceptional scholars and transformative work going at the Mershon Center and am eager to hit the ground running in my research, teaching, outreach, and engagement efforts on national security questions broadly defined," said Nichols. "I'm also delighted to be joining Ohio State's superb history department and to be lending my expertise and efforts as part of one of the best military and diplomatic history focus areas at any university in the U.S. or in the world."
Nichols is a scholar of the U.S.'s role in the world from the Gilded Age and Progressive Era to the present, with an emphasis on isolationism, internationalism, and globalization. He is best known for authoring Promise and Peril: America at the Dawn of a Global Age (Harvard, 2011, 2015), and he is editor or author of five other books, including the recently published Rethinking American Grand Strategy (Oxford, 2021), co-edited with Elizabeth Borgwardt and Andrew Preston. Nichols' upcoming book will be Ideology in U.S. Foreign Relations: New Histories (Columbia, 2022), co-edited with David Milne.
Nichols received a prestigious Andrew Carnegie Fellowship and currently serves as an appointed Organization of American Historians (OAH) Distinguished Lecturer. He is a frequent commentator on US foreign policy and politics in historical perspective, often writes for the Washington Post, and provides analysis at the intersection of policymakers, public, and scholarly audiences. Nichols is a permanent member of the Council on Foreign Relations.
The Mershon Center is looking forward to the many ways Nichols will enrich our center's research and support our mission of advancing interdisciplinary and collaborative approaches to international, national, and human security. To learn more about Christopher Nichols, click here. 
---