April 15, 2022
Graduate Fellow Spotlight: Mariana Miguélez Gómez
Image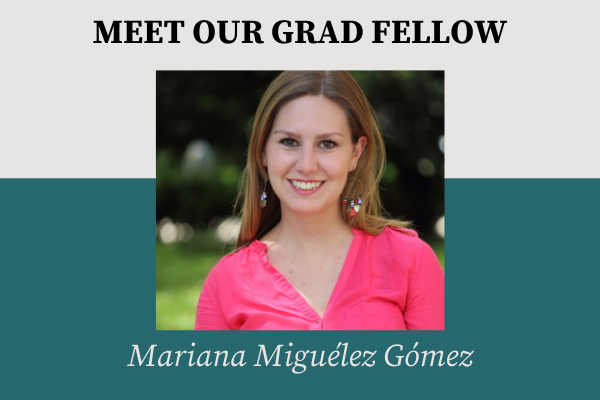 Description
Mershon Graduate Fellow Mariana Miguélez Gómez is a seventh-year PhD candidate in the department of political science and her research project is titled "The "Ethnic Card" and the Commodities Boom in Mexico: How Conflicts for Natural Resources shape Ethnic Identity." Check out our Q&A with her below to learn more about her research, what inspired it, and plans for the future. 
Q: What inspired this project?
A: My project was inspired by the wish to understand why and how different communities in Mexico have mobilized in recent years to fight megaprojects of extraction and how this has also impacted their identity. With the onset of a commodities boom in the country in the mid-2000s, in the name of promoting local economic development, the Mexican state began to expand the number of resource concessions granted to national and international companies. In 2013, after a Constitutional Reform, the federal government opened the energy and hydrocarbons sectors up to private investment and participation. With the reform, firms were given the right to auction for megaprojects, and were permitted to occupy thousands of hectares of land across the country with very little policy coherence between development strategies or environmental and social sustainability.  
Most of these extractive megaprojects are located in rural areas, where many indigenous communities reside. In these areas, the liberalization of investment in extractive sectors resulted in a rise of social conflicts over resources –and how they are managed- between the state and local populations. Many local inhabitants, far from perceiving that this is benefiting their communities economically, believe that new development projects are illegitimately extracting their natural resources–such as water and land. Consequently, many indigenous communities have tried to challenge massive extraction projects by using their right to prior consultation, a constitutional right since 2001 based on the 169 ILO Convention, that calls for their participation in the decision-making processes that affect their lives and territory.
Q: What are you hoping to discover or learn through this research? What problem are you trying to solve?
A: Prior to the commodities boom of the mid-2000s, ethnicity was rarely an important vehicle for social mobilization in Mexico. And yet, today, after 300 years of assimilation policies that forced many groups to suppress their indigenous identity, ethnicity is increasingly used as a mechanism of social resistance in the context of battles over resource extraction. My project examines the variation in the salience of ethnicity among rural groups in Mexico by exploring the conditions under which conflicts over natural resources lead to the use of ethnic identity as a mode of resistance, and how different rural groups are using the "ethnicity card" as a mechanism for participation. Based on this, I argue that the ethnically-oriented resource conflict in Mexico is the result of two intersecting dynamics: first, the rise in commodity-based exploitation and, second, the institutionalization of indigenous rights. The combination of these two factors creates a motive for mobilization framed in ethnic terms that was not present in Mexico before the commodities boom.
Q: What impact does/can your research have in learning about or improving the landscape of your project's subject matter?
A: Existing studies in political economy show that commodities extraction has negative effects on the environment, public health, and economic re-distribution in the developing world. Likewise, recent evidence suggests that extraction leads to contention, especially in indigenous areas in Latin America. However, the question of how patterns of identity and mobilization have shifted in response to conflict for natural resources remains unanswered. My research fills this gap and explains the relation between conflict and identity in areas with extraction, and how different groups frame mobilization. Although my project is focused on the case of Mexico, the implications of these findings also highlight how the intersection between commodities and conflict influence patterns of ethnic identity and resistance more generally when extraction is present.
Q: How is Mershon supporting your research project?
A: The Mershon Grant helped me conduct focus groups with local inhabitants of four municipalities in two states in Mexico: Puebla and Sonora. Not only these areas have an important number of extractive megaprojects and conflicts, but also different mobilization and identity patterns. On the one hand, group interviews help me trace the process through which rural communities understand, transform, and use their identity for political contestation. On the other hand, they unravel how and why individuals' identity has shifted before and after the commodities boom; how extraction and consultation rights make ethnicity more salient among certain groups; and finally, how ethnic mobilization affects strategies of resistance.
Due to COVID-19 traveling restrictions and limitations, I hired two local facilitators who lead in-person groups discussions -following the required sanitary measures- in the aforementioned regions without me having to travel abroad for this purpose. I was able to send all the necessary documentation and written material to the facilitators in order for them to recruit participants and inform them about the purpose of the study. Before the session, participants signed a consent form, which facilitators scanned after each session and shared it with me.
Although the local facilitators moderated the focus groups sessions, I was able to guide them virtually through Zoom calls and chat, which facilitated the type of questions being asked by them and the direction of the conversation with the group. Likewise, I had the chance to clarify any questions the participants had directly during the interviews. After each session, the facilitators would send me any video/audio material from the group discussion so I could verify the accuracy of my notes and complement the information in case we had any technical problems with the Zoom session. These research dynamics allowed me to conduct field work from a different country at the same time that I followed COVID guideless and IRB requirements.
Q: What are your plans for the future?
A: My plans for the future include, firstly, to finish my dissertation, and then to continue doing research on the intersection of conflict, political economy, and identity in Latin America. However, my main goal not only is to produce research that help us understand the factors shaping ethnicity and social contention, but that it will also inform the creation of targeted public policies that help indigenous communities to fight for the conservation of their territory, environmental rights, and economic development based on their own culture.
---