January 24, 2022
Graduate Fellow Spotlight: Matthew Spearly
Image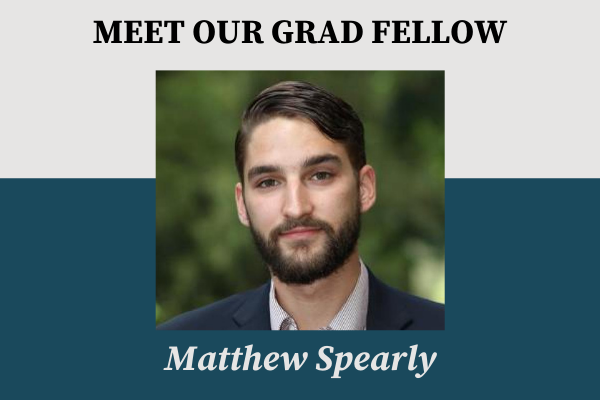 Description
Mershon Graduate Fellow Matthew Spearly is a fifth year PhD candidate in the department of political science and his research project is titled "Twenty-First Century Protection: The Politics of Redistribution, Class, and Insecurity in Contemporary Latin America." Check out our Q&A with him below to learn more about his research, what inspired it, and plans for the future. 
Q: What inspired this project?
A: In the broadest sense, my dissertation project is about the politics of social protection. Social protection includes programs such as unemployment insurance, public pensions, and—of most interest to me—antipoverty cash transfers, or social assistance. These programs are designed to alleviate risk and insecurity presented by old age, injury, poverty, etc.
I've been interested in social protection at least since college, when I began to notice and examine the differences between countries' welfare states—another term for the collection of a country's social protection programs. I became especially interested in conditional cash transfers (CCTs), which are a type of social assistance program that originated and is most prevalent in Latin America. CCTs generally provide cash assistance to economically insecure households, on the conditions that the children in these households are immunized, enrolled in school, and attend regular health checkups. They thus alleviate poverty and are also investments in human development.
CCTs were widely adopted throughout Latin America under left-wing governments during the early 2000s, but beginning in the 2010s, most Latin American countries have elected and are currently led by right-wing presidents. These dramatic political developments inspired me first to examine whether progressive social protection programs in particular, such as CCTs, were retrenched as a result of these political changes. Additionally, not only were political shifts occurring during the early 2010s, but the economic landscape changed considerably too, as the commodities export boom that largely provided the revenue for the expansion of social programs earlier in the century abruptly ended, causing severe economic downturns.
Throughout this research I also wanted to learn more about why voters across Latin America elected so many right-wing leaders only a short decade after electing a wave of left-wing leaders across the continent, the latter development being known as the Pink Tide. In the second and third parts of my dissertation I examine this question through the lenses of socioeconomic class, redistribution, patterns of political representation, insecurity, and anti-democratic attitudes.
Q: What are you hoping to discover or learn through this research? What problem are you trying to solve?
A: Overall, I want to learn: why different types of social protection were expanded and curtailed throughout Latin America during the twenty-first century; how these developments contributed to the more recent resurgence of the political right; and, even more specifically, why different types of insecurity lead to individuals' expression of anti-democratic attitudes. Those three goals align respectively with the three papers of my dissertation, and so I'll address each of them briefly.
In the first paper I am trying to solve a problem with conflicting expectations. It's reasonable to think that right-wing leaders would curtail the social protection programs implemented and expanded by their political opponents, especially during a severe economic downturn, but—for these right-wing leaders—that would also invite many political risks as well. Similarly, left-wing leaders during the 2010s conceivably wanted to preserve these programs, but they in fact might be the ones who can and perhaps need most to curtail social spending. I thus also attempt to solve the empirical problem of disentangling these concurrent political and economic effects on social protection at this crucial juncture.
In the second paper I am trying to solve the problem or puzzle of why, in general terms, the region swung so far from the left to the right in a short amount of time. I argue that patterns in social protection provision and political representation alienated, from the political left, large portions of the population who previously were reliable supporters of the left. This explanation is one founded on a class-based political realignment, which naturally also presents empirical issues to solve—including properly measuring the concepts of interest, analyzing patterns of political behavior over time with cross-sectional data, and isolating the effects of social assistance on individual political attitudes.
In the third paper I analyze how and why different types of insecurity lead to stronger anti-democratic attitudes. Here, first, I am trying to solve a problem with the coarseness of earlier studies by isolating the effects of different types of insecurities (e.g., physical, health, economic) on various populist, authoritarian, and anti-democratic attitudes. Similarly, I build on, complicate, and arguably enhance my own research by examining insecurity independent of socioeconomic class, and specific political attitudes apart from those related clearly and directly to partisanship.
These goals, problems, and puzzles as I've described them are academic and empirical in nature. However, the matters and developments they address have serious implications for millions of people, and in many cases millions of vulnerable people. That includes political and economic changes, the breadth and depth of social safety nets, now security from the multifaceted risks presented by the COVID-19 pandemic, and the health of various democratic principles. Here I'm considering research-related problems from the perspective of a researcher, but I also don't want to understate the tangible significance or impact of the topics this research addresses.
Q: What impact does/can your research have in learning about or improving the landscape of your project's subject matter?
A: I think that overall my dissertation research offers a useful mix of general and specific contributions. With the first paper I wanted to know broadly—and hopefully others are interested to learn as well—why and under which conditions different social protection programs were expanded and curtailed throughout the dramatic political and economic changes of the twenty-first century in Latin America. I find that, in general, all governments expanded social assistance during the economically-prosperous period of the 2000s, but that since the economic downturn beginning in the 2010s, left-wing governments have retrenched social assistance programs and right-wing governments have maintained and even expanded them. In short, and in accordance with previous research, I argue that politically, right-wing governments can't afford to cut spending on these programs, and that economically, left-wing governments can't afford not to, due to pressure from international investors. This part of the project thus offers a broad, cross-national, over-time overview of social protection in Latin America, as well as specific contributions related to the characteristics of the macroeconomic environment, motivations and constraints of political leaders, and heterogeneity of different types of social protection programs.
Following this, my research offers—again, at one level—a somewhat general understanding of why large segments of voters supported right-wing leaders in greater numbers beginning in the 2010s. The evidence suggests that there was a "middle-class backlash" against the political left, whereas traditionally the conventional middle class had been a staunch constituency of the left in Latin America. In short, I argue that throughout the 2000s the Pink Tide governments increasingly relied on the political support of—and targeted benefits toward—the lower socioeconomic classes at the broadly-conceived expense of better-off voters. Comparing similar individuals (in terms of income and other characteristics) who did and did not receive social assistance benefits, the latter were more likely to support the political right. The empirical findings I offer indicate that a class-based political realignment occurred over the course of the twenty-first century, helping to explain why the political right resurged in the 2010s, and how patterns of political representation and social protection contributed to this widespread development.
Part of what the research described above highlights is that insecurity is by no means limited to, or only prevalent among, individuals with the lowest incomes. Additionally, existing research shows that insecurity—often under the umbrellas of economic or cultural anxiety—is shown to be associated with increased support for authoritarian attitudes and right-wing populist political parties and candidates. In the third paper of my dissertation I analyze these concepts and relationships in greater detail, finding that economic and physical insecurity in particular—compared to food or health insecurity, for example, and controlling for other factors including income—are associated with, along with other similar attitudes, less trust in media, democracy, and national governments. These types of attitudes are not confined to right-leaning individuals, but are most prevalent and strongest among them. This research helps to solidify the general connections between insecurity, anti-democratic attitudes, and support for the populist right, while also providing more detail about the specific mechanisms underlying these relationships.
Together, the three components of my dissertation advance the understanding of the political causes and effects of varying patterns of social protection. The second and third parts focus on individual attitudes and behavior as these relate to and are influenced by class, redistribution, and insecurity. The evidence offered by the analyses of these attitudes contribute detailed insight into the recent electoral successes of the political right, as well as the increasing commonality of anti-democratic attitudes, in Latin America and also globally.
Q: How is Mershon supporting your research project?
A: The second and third parts of my dissertation rely primarily on AmericasBarometer survey data collected and published by the Latin American Public Opinion Project (LAPOP). These surveys are conducted in every Latin American country approximately every two years, and include a range of questions related to—among other topics—respondents' political attitudes and behavior, experiences with social protection programs, and personal and household characteristics. With grants from the Mershon Center for International Security Studies as well as the Department of Political Science, I was able to purchase a two-year subscription to the comprehensive AmericasBarometer data.
These grants enabled me to reorient my dissertation project during the pandemic. My dissertation plan previously was to expand substantially on the first paper with extensive field research, but of course the pandemic severely limited the prospects for that type of research. While I would have liked to conduct more field research, and while—above all—I certainly recognize the many more serious issues created by the pandemic, the process of reevaluating my dissertation ultimately, I believe, improved the project. The Mershon funds permitted me to progress and enhance my research amid the disruptions.
Q: What are your plans for the future?
A: My immediate plans for the future are to finish writing the third paper, refine the whole project of course, and continue with my GRA appointment doing data science work in the private sector. As I get closer to graduating, I'll be eager and grateful to explore opportunities for what will come next. In any case, I have enjoyed my dissertation research, think it examines important topics, and am thankful for all the generous support I've received to this point.
---