September 2, 2022
A Look Across the Threshold: Welcome from Dorothy Noyes, Director
Image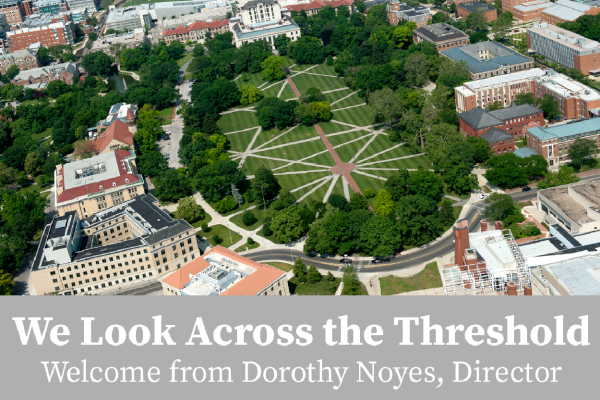 Description
Dear Mershon friends,

Reasserting ritual amid pandemic and political uncertainties, we wish you a happy academic new year! International, national, and human security urgently demand our collective attention and best thinking; the Mershon Center hopes to offer a congenial environment for that purpose.

Here on the limen of the school year, we take note of what has been done and what we leave behind. The linked Annual Report for 2021-2022 details the accomplishments of Mershon associates and projects as well as the initiatives of Director Chris Gelpi, Associate Director Teri Murphy, and Manager Kyle McCray in refining and revising Mershon governance and frameworks for facilitating interdisciplinary involvement; I am grateful to them for having worked hard to set things in place for the incoming director. We also say a farewell to longstanding Mershon fellow Richard Hamilton.

At the same time, we look across the threshold. We welcome new staff who bring us back, for the first time in many years, to a full complement: just-arrived Communications Specialist Andrew Mackey and Events Coordinator Dani Wollerman. We welcome new postdocs. Brooks Marmon, Zaynab Quadri, and Sefa Secen join ongoing postdoc Sooyeon Kang in making connections across the university that strengthen our networks as well as their own research. We welcome our new Hayes Chair in National Security, Christopher Nichols, who brings boundless energy and an expansive conception of US foreign policy to our conversations; with Laura Dugan, who joined us during the pandemic as Mershon Designated Professor of Human Security, Mershon now has five endowed positions. As always, we are excited about the larger number of new faculty and PhD student affiliates bringing us new ideas.

Two teams were selected in the spring to organize research and programming on themes of general interest, from contrasting perspectives. "Centering the Global Periphery" starts with a broad framework to open up comparative discussion. "The Legal Geopolitics of the Ocean" focuses on a highly current, exemplary case study to give us an opportunity for the common sensing that can also generate interdisciplinary insight.
Our ongoing Divided Community Project, co-sponsored with the Moritz College of Law, has just published a revised edition of its widely circulated Practical Guide to Planning Initiatives to Advance Racial Equity. The revision highlights the need for iterative, consultative process in engaged policy and community work.
You'll hear about all of these projects and meet all of these people in the course of the fall. To the extent possible, we're organizing our programming around two axes: in-person Monday lunches for informal presentations and hybrid lectures and symposia on Thursday afternoons. The Monday lunches Mershon Mondays will begin on September 12th, when I will discuss some ways of thinking about interdisciplinarity at Mershon, perhaps addressing some of your questions about what on earth a folklorist intends to do with a center for international security studies. Other fall events include a book launch for Chris Nichols, Ana Muñiz on border surveillance, the news from Colombia and Estonia, a symposium on white supremacism, a conference on comics and empire, Fiona Hill, and more!
This is a year for consultation. Inputs from all fields and voices are welcome as we tailor an approach to intellectual sociability that can foster good work in the world. Let me know what you're thinking about.
Dorothy Noyes, Director
---