September 9, 2019
Meet the postdocs
Image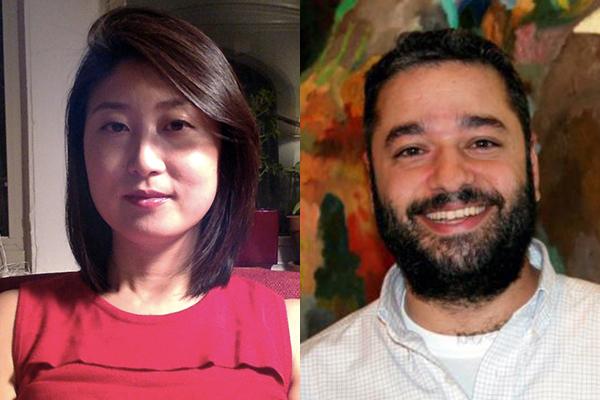 Description
This year the Mershon Center is pleased to restart its postdoctoral fellows program with two new postdocs.
Hye Yun Kang's research investigates the intersection between law and security in security practices. In particular, she focuses on human security challenges that result from national security practices in international conflicts. She studies implementation processes of security policies, showing how security policies are understood, communicated, and materialized on the ground. Her dissertation features three case studies in Korea, in the United States, and in Europe.
Kang received her Ph.D. in political science from Northwestern University and in philosophy from the École Normale Supérieure (ENS), Paris in June 2019. She held a position of doctoral fellow at the American Bar Foundation (2018-2019).
Guillaume Wadia is a historian of modern France and its empire with a focus on North Africa and the Middle East. His project, "A Constellation of Outposts: French Security Services and the Administration of the French Protectorate of Morocco, 1912-1937," examines the French colonial intelligence state. He argues that French intelligence officers in Morocco created a covert regime to evade outside scrutiny into the practices of empire. 
At the Mershon Center, Wadia will begin to transform his dissertation into a book project. Additionally, he intends to apply his research toward understanding digital colonialism. He obtained his Ph.D. from Harvard University in 2018.
In addition, two postdoctoral researchers continue their work at the Mershon Center: Sona Kazemi, a multi-lingual postdoctoral researcher of migration studies, disability studies, and medical humanities, and Joonghyun Kwak, who is working with Craig Jenkins on the Survey Data Recycling project. 
---