February 14, 2023
Mershon Explores the Legacy of Empire in Zimbabwe
Image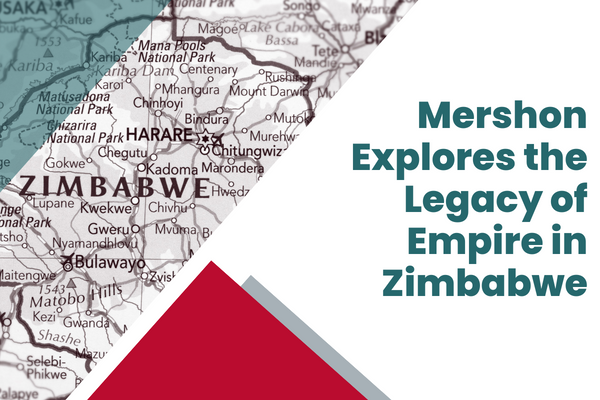 Description
February 10 marked the first of a series of anticipated Mershon events on African affairs. Chase Barney (University of Arkansas) and Lawrence Mukusha (Kent State University) shared their perspectives on curating and conducting research at the National Archives of Zimbabwe (NAZ). The event, "In the Shadow of Empire: Exploring the National Archives of Zimbabwe" was supported by funding from the University's 2022-23 Global Arts and Humanities Discovery Theme (GAHDT) – 'Archival Imaginations.'
Following an introduction by Mershon post-doctoral scholar Brooks Marmon (a historian of Zimbabwe), Lawrence Mukusha, a research archivist at NAZ from 2015-2019, kicked the seminar off. His presentation reflected on the lingering impact of Zimbabwe's intense colonial occupation (1890-1980) on both NAZ and Zimbabwean/southern African historical memory more broadly. One example of this strong legacy is the Archives' highly visible symbolic ties to Alfred Beit, a late 19th/early 20th century Anglo-German mining magnate. A statue of Beit greets all visitors to the main archive facility in Harare, Zimbabwe's capital, and an exhibition room in NAZ's main building bears his name.
This insider's view on operations at NAZ was complemented by a presentation from Chase Barney, a PhD candidate with significant research experience at the repository. Barney highlighted his experience liaising with the Research Council of Zimbabwe, a government body overseeing the accreditation of foreign researchers in the country. He also shared findings from his in-progress PhD dissertation, which unpacks the 'hidden' diversity of the white-dominated, ostensibly segregated upscale suburbs of northern colonial Harare. Both presenters and audience members alike connected these insights from archival research and curation in Zimbabwe to wider contemporary debates on decolonization in both Africa and North America.
A second GAHDT supported event will renew Mershon's exploration of empire and decolonization. Emmanuella Amoh (PhD candidate, Purdue University, will discuss "Transnational and Multi-site Research Projects: Reflections from Ghana" on April 18 at 11:30 am.
You can watch "In the Shadow of Empire: Exploring the National Archives of Zimbabwe" on the Mershon Center's YouTube channel.
---