December 15, 2021
OPPORTUNITY: Join Mershon as a Programming and Research Leader
Image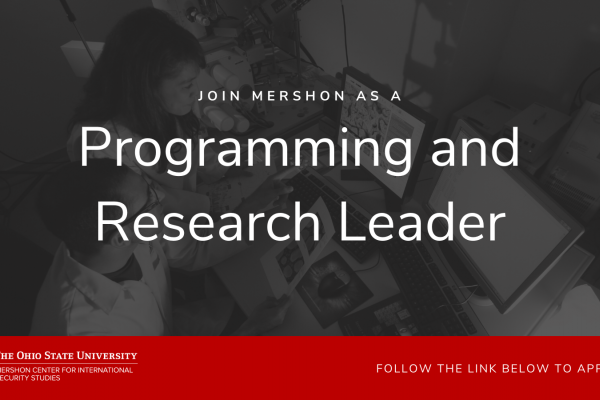 Description
The Mershon Center for International Security Studies is seeking faculty to join Mershon as Programming and Research Leaders to develop creative programming around a topic of their choice which relates to international, national, or human security.
Overview
In an effort to broaden the topics, research, and programming hosted by the Mershon Center, we are calling for faculty to assume roles as Programming and Research Leaders.
Research and programming are central foci of the center's activities. Under their discretion, leaders will work in pairs to design, implement, and oversee programming in a thematic area of their choice relating to either international, national, or human security. As such, there will be three leadership teams.
Each leadership team will include scholars from at least two different disciplines, colleges or schools. Highly collaborative and interdisciplinary teams formed with attention to diverse perspectives and approaches, and include faculty at all career stages, are strongly encouraged to apply.
These programming and research leadership groups replace the research clusters currently in place. This shift comes as a way to broaden our scope and encourage greater diversity in our research and fellows.
Each leader will receive $3,000 yearly in research funds for their two-year commitment to the following duties:
Develop programming (symposia, workshops, conferences, working groups, speakers, etc.) around a specified theme related to either international, national, or human security.
Serve on a committee to review and select grant applications for postdoctoral fellows, graduate research projects, and faculty research projects. (Leaders may still apply for grants with the caveat that they must recuse themselves from the selection committee).
Duties
The research and program leaders' duties include:
Participate in an annual strategy review and development process.
Design and implement interdisciplinary programming consistent with their substantive area.
Oversee the annual grant competitions related to their substantive area.
Interview, select, and manage a Mershon postdoctoral research scholar. Postdocs will contribute 10 hours each week to intellectual leadership, designing, implementing, and administrating programs.
Submit an annual research and programming brief for the Mershon website.
Submit an annual evaluation of their research and programming portfolio to the director.
Apply
Those interested in serving in this role should submit the following:
A one-paragraph description of the theme they are interested in exploring, and how it supports the center's mission to advance the study or international, national, and human security.
A one-paragraph description of the types/format of programming they would coordinate to explore that theme. Special emphasis should explain strategies the leaders would use to foster a community around this topic.
Faculty should apply as interdisciplinary teams of two. Only one application is necessary for each pair. If you are unable to find a pair for your proposed theme, you may apply as an individual and note which discipline may pair well with your proposed theme.
Interested parties may submit this information to mershoncenter@osu.edu with the subject line "Programming and Research Leader Application" by February 1.
Benefits
Each leader will receive $3,000 per year in research funds over a two-year term. Leaders will help shape the center's thematic direction on topics they are passionate about exploring and advance the knowledge and conversation on those topics.
Successful applicants will begin evaluation of grant applications and planning fall semester programming during spring semester 2022.
Each team will have a flexible budget to support the programming they intend to execute.
Please submit applications to mershoncenter@osu.edu with the subject line "Programming and Research Leader Application" by February 1.
---