May 11, 2021
Quantum Social Science Bootcamp Open for Registration
Image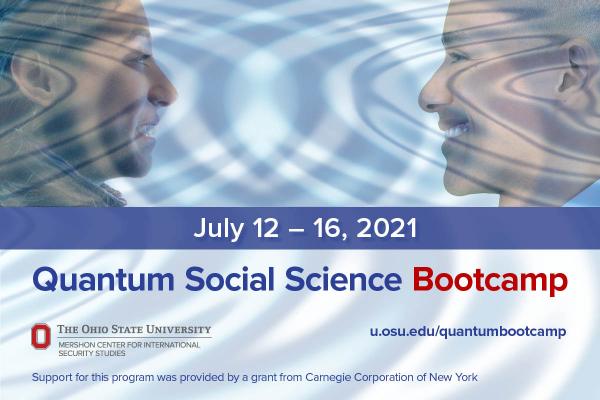 Description
The Mershon Center for International Security Studies, with support from a generous grant from the Carnegie Corporation of New York, have organized a first of its kind "bootcamp" intended to introduce students and scholars at all stages, from across the social sciences, to the potential utility of quantum theory for their work. 
At the heart of the quantum social science project is the question of whether the classical framework that currently dominates the social sciences, which is rooted in a 19th century materialist and reductionist worldview, as well as classical probability theory and logics, is in fact warranted in the study of conscious, seemingly entangled systems like the mind and society.
In addition to facing long-standing puzzles of human decision-making behavior as well as philosophical paradoxes, doubts about classical thinking in the social sciences have intensified with the recent rapid growth of interdisciplinary fields like quantum cognition and decision-making, quantum game theory, quantum social theory, and quantum biology. These new research programs have arisen precisely because they show the potential to address and resolve many of these classical anomalies and problems.  If it turns out that mind and society are better described as quantum than classical objects, then the social sciences will need to be rebuilt on a quantum foundation to gain a proper understanding of human behavior.  And quantum physics, which we normally think of as the ultimate physical science, would turn out to be a human science that could perhaps speak to the problem of consciousness, as well.
However, because the quantum challenge has never been confronted before, few social scientists currently are equipped with the conceptual, mathematical, and/or philosophical skills to address it, pro or con.  Nor is there a cohort of potential quantum social scientists waiting in the wings, since almost no one studies quantum theory in college excepts physics majors.
The Mershon Center's Quantum Bootcamp, which has been made possible by a generous grant from the Carnegie Corporation of New York, is a response to this lack of supply of quantum expertise at the most elementary level in the social sciences.  Not that we can do much more than stir the pot in 10 days.  But what we can do, by bringing together experts with capacities across different forms of quantum social science, from the most abstract to the most concrete, is give students with little or no background a sense of why a quantum social science might be needed, and what its basic elements would be. From there, and as members of a growing interdisciplinary community of scholars like those represented at the bootcamp, attendees should be able to begin further study on their own, including potentially participating next year at our follow up in-person workshop.
Initial plans to host two yearly, 10-day, all-expense paid intensive bootcamps at the Mershon Center/Ohio State University had to be postponed for a year because of the pandemic, and will now be held in 2022 and 2023.  This year, 2021, our program will be entirely online and be more of a speakers' series. Ten outstanding scholars from various disciplines will be offering webinars in the mornings of the week of July 12-16 addressing the idea of a quantum social science from their own perspectives.  Depending on demand and availability, we are also considering offering some smaller afternoon seminar discussions led by members of our team.
Advanced
---