December 16, 2016
Two Mershon Affiliates Receive Reciprocal Exchange Awards
Image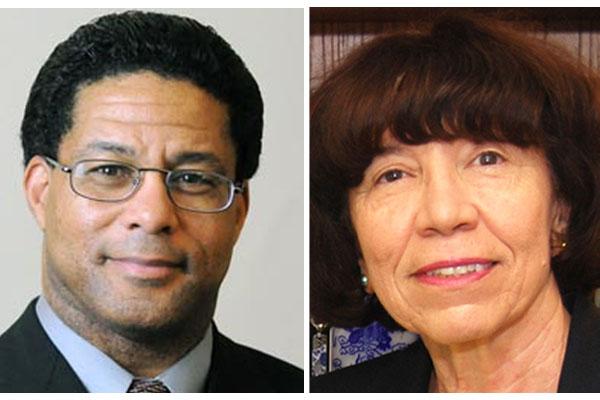 Description
A Mershon graduate student affiliate and faculty affiliate are among the 26 Americans to receive grants from the International Research and Exchanges (IREX) Board for study and travel in sub-Saharan Africa.
Rudy Hightower, doctoral candidate in the John Glenn College of Public Affairs, and Esther Gottlieb, Ph.D., senior advisor in the Office of International Affairs, have received Reciprocal Exchange Awards as part of the Mandela Washington Fellowship for Young African Leaders. The grants are made available through the U.S. Department of State and IREX.
The Reciprocal Exchange Awards allow American professionals to travel to sub-Saharan Africa to collaborate on projects with Mandela Washington Fellows who participated in the program. Through these projects, Americans and young African leaders form lasting partnerships and increase mutual understanding across the United States and Africa. Ohio State hosted a cohort of Mandela Fellows – 25 young professionals from 17 different countries in Africa – in June 2016 to participate in a six-week Public Management Institute coordinated by the Glenn College and the Center for African Studies.
The Reciprocal Exchange component awards up to $5,000 to each American to help fund ongoing projects between 2016 Mandela Washington Fellows and American professionals. Fellows met the Americans through site visits, networking, internships, and other parts of the six-week Academic and Leadership Institutes in the U.S. during the Fellowship.
Hightower will travel to Ethiopia to work alongside Mandela Fellow Enque Endeshaw, M.D., on a project that involves using nonlinear modeling and simulation research methods Endeshaw learned at the Glenn College to advance the understanding and create policy initiatives to help the psychiatric healthcare needs of refugees and migrant workers throughout the country.
Gottlieb will travel to Tanzania to work with Mandela Fellow Bahati Hakimu to design a train-the-trainer education model to recruit, mentor and work with youth – mainly women and girls – to help develop their interest in agriculture.
Twenty-six Americans were awarded the reciprocal grant and will travel to 17 countries in sub-Saharan Africa in the next six months. The Mandela Washington Fellowship, the flagship program of President Obama's Young African Leaders Initiative (YALI), empowers young African leaders through academic coursework, leadership training, mentoring, networking, professional opportunities, and support for activities in their communities. It is a program of the U.S. government and is supported in its implementation by IREX.
Ohio State has submitted an application to host another cohort of Mandela Fellows in 2017.
---