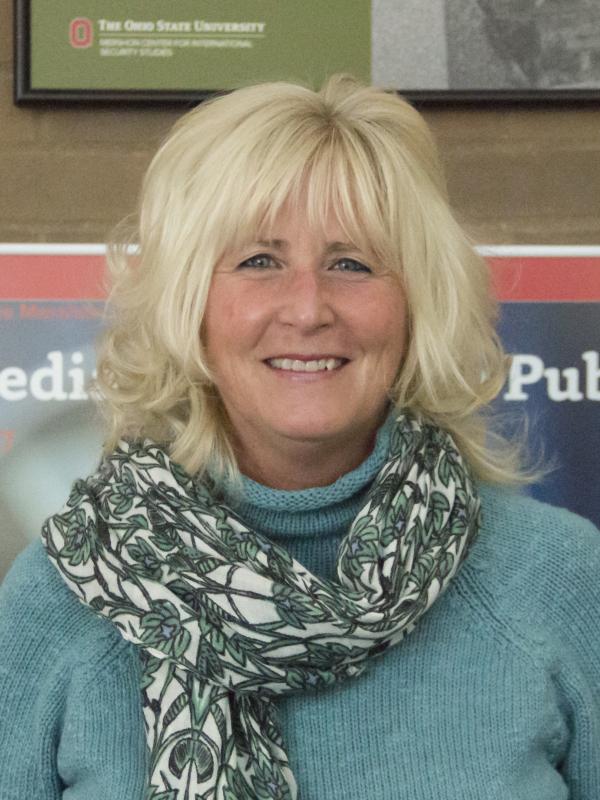 Teri Murphy
Peace Studies Coordinator
220C Mershon Center
1501 Neil Ave.
Columbus, OH 43201
Education
Ph.D., Social Psychology, University of Cape Town
Teaching/Research
Teri Murphy is the Coordinator for Peace Studies at the Mershon Center for International Security Studies. She has been actively engaged in conflict intervention and peacebuilding in several international contexts for the past 25 years. Her primary research interests focus on the intersection between peace, human security, and development.
As a scholar-practitioner, Teri's applied research takes place in conflict-affected settings including Afghanistan, Northern Ireland, Turkey/Syria, and the MENA region. Her particular focus is on developing culturally adaptive and complexity sensitive policies and practices for relief, stabilization, development, and transitional processes. She has written several policy briefs related to Turkey's mediative influence and aid approach in the region.
Her most current co-authored publication offers comparative considerations for Syria's transition towards durable peace.
Job Duties
Under the direction of the Chair of Peace Studies and Conflict Resolution, Teri works with interested students, community members and staff of the Mershon Center to promote the study and practice of peace building among undergraduate students at The Ohio State University and the broader central Ohio community.
Her duties include developing, planning, executing and supervising peace-related programming and educational activities, including conferences and speaker panels; cultivating, expanding and sustaining collaborative partnerships with community organizations; and supervising peace-related student groups and activities. These activities will develop a bridge between the academic research fostered at the Mershon Center and the central Ohio community, both inside and outside Ohio State, that is interested in the promotion of peace at the local, national, and international levels.
Additionally, Teri will teach three undergraduate courses annually in the International Studies Program's Peace Studies minor program.
Links
Curriculum Vitae (pdf)
High-resolution photo
Publications
"Transformation Through Justice for Syria" (Istanbul Policy Center Brief, 2017)
"Simulation Games in Teaching International Relations: Insights from a Multi-Day, Multi-Stage, Multi-Issue Simulation on Cyprus" (International Studies Perspectives, 2014)
"Turkey's International Development Framework Case Study: Somalia" (Istanbul Policy Center Brief, 2014)
"Gender Mainstreaming: Turkey's Policies and Practices in Peacebuilding Initiatives" (Istanbul Policy Center Brief, 2013)
"War, Trauma and Reality: Afghan Women's Plight in Turkey" (Istanbul Policy Center Brief, 2013)
"Synthesis Report of the Baseline Study on Civilian Capacity: A CIVCAP Joint Research Project," contributor (Norwegian Institute of International Affairs, 2012)
"Turkey's Civilian Capacity in Post Conflict Reconstruction" (Istanbul Policy Center Brief, 2012)