May 4, 2022
A Letter from Outgoing Director Chris Gelpi
Image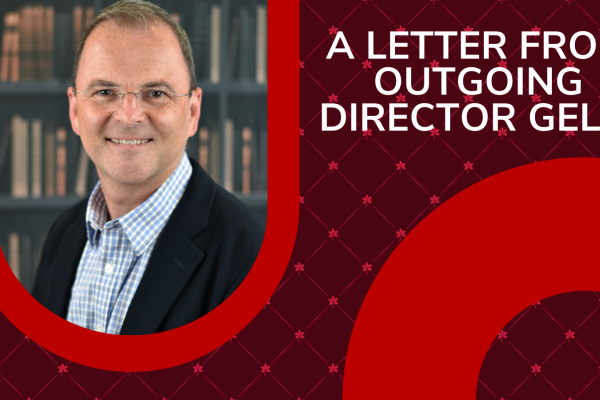 Description
It has been a privilege to serve as director of the Mershon Center for the past four and a half years. The center has grown and changed immensely since I took on this role, and this feels like the perfect moment for a new leader to take their turn in guiding the evolution, expansion, and advancement of our community.
During my time as director, we have faced challenges and choices, some anticipated and many that were not. Most obviously, we had to learn how a center that convenes scholars and funds field research can function during a global pandemic. Despite these challenges, I hope and believe that I am leaving the center in a very strong position to continue building toward an exciting future. The center could not have gotten to this position without the energy, creativity, guidance, and support that I have received from our staff, faculty fellows, and graduate fellows. Together, we have:
Moved our operations to the heart of campus on the Oval. As we move back to in-person activities, I hope that this move will literally put us in position to be a catalyst for exciting new gatherings and collaborations.
Welcomed a new Wayne Woodrow Hayes Chair of National Security. I can't wait to have Chris Nichols as a colleague here at Mershon and I look forward to all he will bring to Mershon.
Welcomed our inaugural Mershon Professor of Human Security. Laura Dugan's leadership and scholarship embody Mershon's commitment to a breadth of perspectives on international security that includes a societal and human dimension.
Expanded our outreach and engagement through external partnerships with other universities, government offices, and civil society organizations. These partnerships have helped Mershon's resources and expertise reach beyond the academy to address urgent security problems and challenges.
Launched new Mershon programs including the Program for the Study of Realist Foreign Policy, the Quantum Social Science Bootcamp, and the Conflict 2 Peace Lab. This diverse range of programs (along with existing programs such as the Comparative National Elections Project) embody the diverse perspectives on security that thrive at Mershon.
Renewed the Postdoctoral Scholars Program. We have been fortunate to benefit from the presence of six wonderful post-docs over the past three years, and we look forward to welcoming three new scholars in the fall!
Funded research resulting in more than 83 articles, 16 books, and $3 million in external grant support.
Hosted 90 events since the fall of 2019, most of them through our three research clusters: American Foreign and Military Policy, Security and Governance, and Recovering from Violence. Thanks to all those who provided leadership in in these initiatives that made Mershon such an engaging intellectual environment.
I am truly grateful for the opportunity to serve as director of this center that I value so deeply. I learned a great deal both about myself and about what it takes to build, sustain, and grow a vibrant academic community. I could not have done any of this work without the incredible support of our talented, dedicated, and energetic staff. Nor would any of this have been possible without the engagement of our brilliant faculty and graduate fellows. It has truly been an honor to serve the amazing team that make up this center. But I am not going far! I will continue to participate in the activities of the center through my role as Chair of Peace Studies and Conflict Resolution. I look forward to the wise leadership of our incoming director, Dorry Noyes, and I can't wait to see where we go next!
Best,
Christopher Gelpi
---