May 3, 2023
Alger Undergraduate Student Scholarship Awardees Announced
Image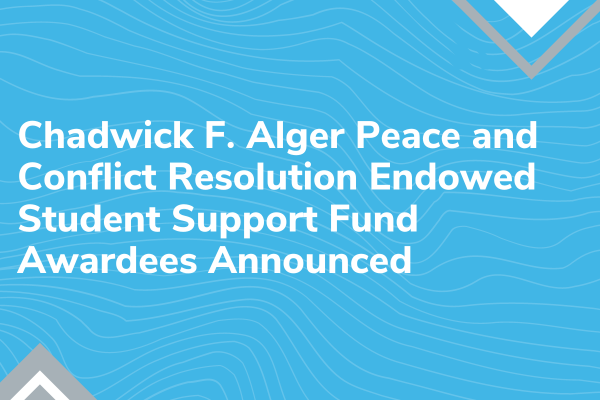 Description
The Mershon Center is delighted to announce that Julia Davies and Ruth Elendu have been awarded grants from Chadwick F. Alger Peace and Conflict Resolution Endowed Student Support Fund for their outstanding research projects.
Julia Davies, a junior majoring in History and Political Science, has been granted $2,500 for her project titled "Memory Wars: Memorialization as a Tool for Transitional Justice in Bosnia-Herzegovina." Under the guidance of faculty advisor Sarah Van Beurden, Julia's research focuses on the role of genocide memorials in post-genocide Bosnia-Herzegovina and their impact on shaping collective memory, reconciliation efforts, and the interplay between individual and collective memory. Her work promises to contribute significantly to the fields of transitional justice and peacebuilding in post-conflict societies.
Ruth Elendu, a senior majoring in International Studies, has secured $1,820 in funding to attend the International Studies Association (ISA) Annual Convention in Montreal, Canada. This prestigious conference, themed "Real Struggles, High Stakes: Cooperation, Contention, and Creativity," brings together professionals, researchers, and scholars from various disciplines to exchange ideas and expand their professional networks. With the support of her faculty advisor, Hollie Nyseth Nzitatira, Ruth aims to gain invaluable insights and further her personal and professional goals by participating in this event.
The Chadwick F. Alger Peace and Conflict Resolution Endowed Student Support Fund recognizes these students' dedication and passion in their respective fields. The Alger Fund is given annually to an enrolled Ohio State student who is engaged in research on peace studies and conflict resolution or the completion of a course of study focused on peace and conflict resolution. We extend our warmest congratulations to Julia and Ruth for their exceptional achievements and wish them continued success in their academic endeavors.
News Filters:
---