November 22, 2019
Conflict to Peace Lab builds bridges between scholars, practitioners
Image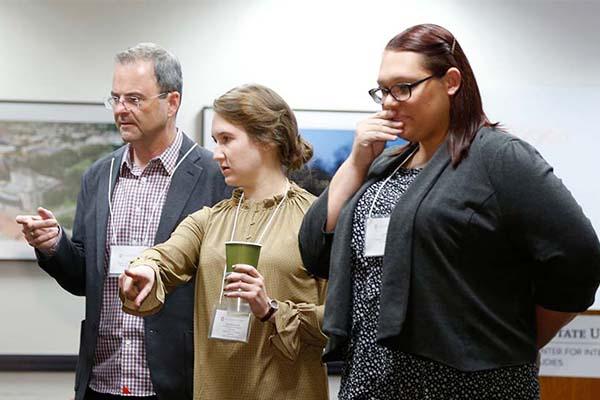 Description
On November 15-16 the Mershon Center for International Security Studies hosted its first annual peacebuilding symposium, "Exploring Obstacles to Social Cohesion in the Aftermath of Violent Conflict." As part of the center's new strategic plan, Mershon seeks to serve as a channel for building a lasting alliance between scholars and peace practitioners.
"The center is leading a dialogue around how these groups and others can work more cohesively to address the world's challenges and opportunities in human security," said Director Christopher Gelpi (right in photo above).
The symposium brought together scholars from The Ohio State University, Cornell University, Dartmouth University, Georgetown University, and University of Chicago, with peace practitioners working in conflict-affected areas across the Middle East and Africa representing groups such as ARK DMCC, Christian Aid, Humanity United, Tearfund, and Center for Civil Society and Democracy.
The symposium focused on building and restoring the social conditions that enable people to work together after communities have suffered a violent conflict. Language, ethnicity, cultural norms, and conflicting narratives of grievance are among the obstacles making the pathway to peace more difficult.
Recognizing when a society has begun to transition into peace from conflict is among the most significant challenges faced by these collaborators, Mershon Center Peace Studies Coordinator Teri Murphy (left in photo above) said.
Symposium participants plan to use their shared experiences to build common principles for research and practice that support learning and understanding between these communities. These strengthened relationships will transform the larger peacebuilding community and peacebuilding activities in societies affected by violence.
"The center's Conflict to Peace Lab was created to build relationships between scholars and practitioners to explore why efforts at building peace in post-conflict settings often fail," said Murphy, who co-directs the lab. "Over the symposium's two days, participants candidly shared key lessons around peace program design and implementation, monitoring and evaluation."
Scholars and practitioners all recognize the need to make their findings approachable and accessible across both communities as well as donor organizations such as governments and foundations.
One of the hurdles facing collaboration across these communities is timeliness and accessibility of research findings. These problems are often rooted in the long peer-review process common to many scholarly journals, as well as the fees these journals often charge to access content.
Another hurdle identified by participants was that peacebuilding organizations can sometimes be guarded in sharing information from their own experiences. This problem is often a result of restrictions from donors or the constant need to compete for financial resources.
Students, scholars, and practitioners at the Mershon event all accepted a need for deeper training in field research methods, bias recognition, and data analysis, as well as anthropology and sociology.
Establishing highly functional information exchanges will require an ability to fuse research and experience and to overcome proprietary interests, participants agreed. Participants shared the determination that research questions should be shaped by learning on the ground. At the same time, interventions and activities on the ground need to be modified in response to learning through research.
The participants expressed a desire to continue this work through collaborations on specific research projects and through future symposiums. "We are at the beginning of this process, not the end," Gelpi said. "I am excited to see how these partnerships grow."
---