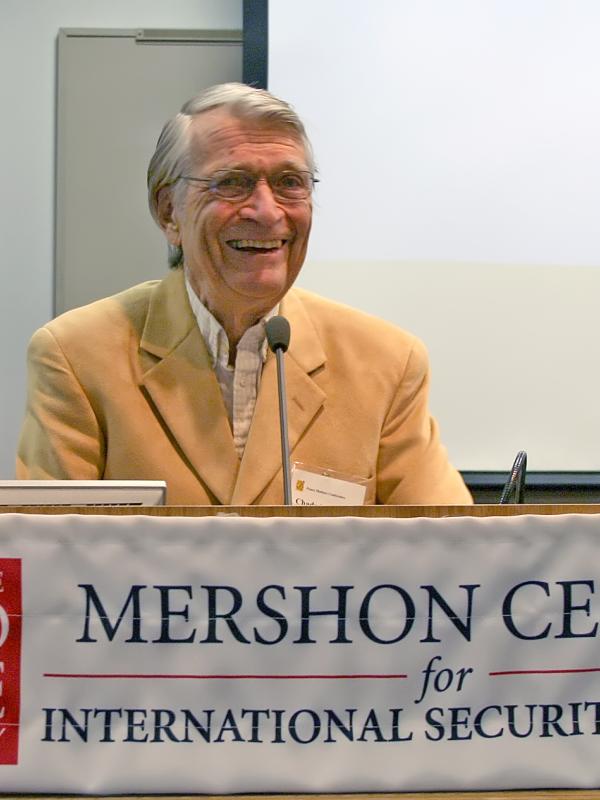 Chadwick Alger (in memoriam)
Mershon Professor Emeritus of Political Science and Public Policy
Education
Ph.D., Political Science, Princeton University (1957)
M.A., School of Advanced International Studies, Johns Hopkins University (1950)
B.A., Political Science, Ursinus College (1949)
Teaching/Research
Chadwick Alger was Mershon Professor Emeritus of Political Science and Public Policy. He passed away on February 15, 2014. We are keeping this page up to feature his research.
Alger's research and teaching interests are centered on:
Global problem-solving by international governmental and non-governmental organizations, primarily focused on the United Nations System.
The world relations of local people, governments and organizations.
Inventory and evaluation of available "tools" and strategies for peace building.
Subjects of research included decision-making in the U.N. General Assembly, the role of non-governmental organizations in the struggle for human rights and economic well-being, evolving roles of NGOs in U.N. decision-making, potential roles of the U.N. System in the 21st century, religion as a peace tool, the expanding tool chest for peace builders, and why the United States needs the U.N. System.
Alger was director of the Mershon Program in Transnational Intellectual Cooperation in the Policy Sciences (1971-81) and director of the Mershon Program in World Relations (1982-91)
Faculty Links
Obituary: Longtime Mershon affiliate Chad Alger dies at 89 (2014) 
Curriculum Vitae (pdf)
Mershon Projects
The United Nations System, with particular interest in providing an overview of its emerging roles in long-term peace building and the growing participation of civil society (including non-governmental organizations), local governments and business.
Peace Studies as a Transdisciplinary Project, an effort to provide a comprehensive overview of growing knowledge about strategies for preventing violence, for post-violence peace building, and for long-term peace building.  One goal of the project is to illuminate the fact that "there are peace tasks for everybody."