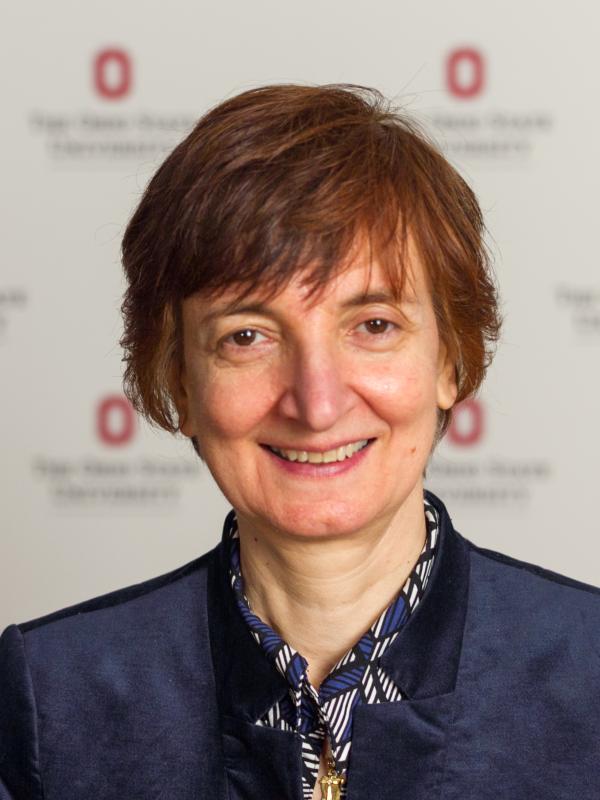 Yana Hashamova
Professor and Chair of Slavic and East European Languages and Cultures
400F Hagerty Hall
1775 College Road
Columbus, OH 43210
Education
Ph.D., Comparative Literature, 20th Century European Film and Literature, University of Illinois at Urbana-Champaign (1999)
Ph.D., Slavic Languages and Literatures, University of Illinois at Urbana-Champaign (1996)
M.A., History and Theory of Culture, University of Sofia (1990)
Teaching/Research
Yana Hashamova is professor and chair of Slavic and East European Languages and Cultures; core faculty of the Film Studies Program; and affiliate faculty of the Global Arts + Humanities Discovery Theme, comparative studies, film studies, women's, gender and sexuality studies, and the Mershon Center for International Security Studies. 
She is the first international scholar to be named honorary research associate at the Research Centre of the Slovenian Academy of Sciences and Arts (Institute of Culture and Memory Studies). Hashamova is also editor of Slavic and East European Journal. 
In her work, Hashamova strives to establish links between political ideology and constructs of national and gender identities in cultures, while analyzing post-Soviet conditions. She has authored and edited several books as well as published over 30 articles and book chapters in the areas of Russian and Balkan film, media, and literature, all examining national, ethnic, and gender representations.
Her most recent books are Migrants and Refugees to, through, and from the Balkans (Liverpool University Press, forthcoming), co-edited with Oana Popescu Sandu, and Sunnie Rucker-Chang; Screening Trafficking: Prudent and Perilous? (Central European University Press, 2018), and Beyond Mosque, Church, and State: Alternative Narratives of the Nation in the Balkans (Central European University Press, 2017), co-edited with Theodora Dragostinova and based on a 2011 Mershon-funded conference.
Her other books include Transgressive Women in Modern Russian and East European Cultures: From the Bad to the Blasphemous, co-edited with Mark Lipovetsky and Beth Holmgren (Routledge, 2016); Embracing Arms: Cultural Representation of Slavic and Balkan Women in War, edited with Helena Goscilo (Central European University Press, 2012); Cinepaternity: Fathers and Sons in Soviet and Post-Soviet Film, edited with Helena Goscilo (Indiana University Press, 2010); and Pride and Panic: Russian Imagination of the West in Post-Soviet Film (Intellect Press, distributed in the United States by University of Chicago Press, 2007). 
Advancing public dialogue surrounding the issues of migrants and refugees, Hashamova's current project (a co-edited volume) explores the dynamic representations of the recent movement of people to, from, and through the Balkans.
Faculty Links
Curriculum Vitae (pdf)
Department web page
Media Links
Mershon Center: Mershon affiliates part of $300,000 State Department grant (2019)
Arts and Sciences: Screening Trafficking: Yana Hashamova describes media depictions of human trafficking (2019)
Slavic Studies: Hashamova named to Slovene Academy (2017)
Slavic Studies: Hashamova and Suchland awarded grant from Slovenian International Integration Agency and European Science Foundation (2015)
Slavic Studies: Hashamova teaches course at Beijing Normal University (2014)
Mershon Center: Article by Hashamova wins Heldt Prize (2013)
Slavic Studies: Faculty group receives $175,000 Mellon Foundation grant (2012)
Arts and Sciences: Faculty Group Receives $175,000 Mellon Foundation Grant (2012)
Office of International Affairs: Two new directors appointed to lead area studies centers (2009)
Mershon Projects
Trafficking, Ethnicity, and Religion: Prevention Campaigns and Minorities in the Balkans (2012-13)
Beyond Mosque, Church, and State: Negotiating Religious and Ethno-National Identities in the Balkans (2011-12)
International Conference on Women and War (2007-08)