November 7, 2019
Mershon symposium to explore peacebuilding partnerships
Image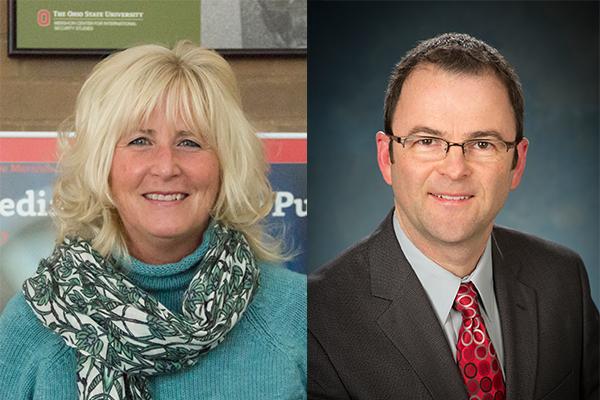 Description
In the aftermath of violent conflict, peace practitioners, policymakers, and foundations spend billions of dollars and decades of time trying to rebuild societies torn apart by ethnic, sect, class, or other divisions.
Yet measuring the success of these programs remains problematic. Researchers may not be asking the right questions or measuring the right things, while practitioners do not have the time, funding, or expertise to monitor and evaluate key outcomes.
To address these issues, this week the Mershon Center for International Security Studies will host a working symposium on "Exploring Obstacles to Social Cohesion in the Aftermath of Violent Conflict."
The symposium, organized by Peace Studies Coordinator Teri Murphy (left) and Chair of Peace Studies and Conflict Resolution Christopher Gelpi (right), will include researchers from The Ohio State University, University of California, Berkeley, Cornell University, Dartmouth College, Georgetown University, and University of Chicago, as well as practitioners from ARK Group, Christian Aid, Humanity United, Tearfund, and Center for Civil Society and Democracy.
Although most of this working conference is closed, Mershon affiliates, members of the Ohio State community, and the broader Columbus community are invited to a special lunch and "fireside chat" on "Building Peace: A Conversation between Academics, Policymakers, and Practitioners."
During the lunch, Murphy will interview Hollie Nyseth Brehm, associate professor of sociology, and Veena O'Sullivan, head of thematic support at Tearfund, about their experiences of collaborating with researchers, policymakers, and practitioners in the understanding and building of peace.
They will discuss the differences in agendas, priorities, and timelines of these parties, what constitutes evidence, and how to work more effectively together. After the fireside chat, attendees will break into small groups to further discuss the challenges and opportunities of building cross-institutional partnerships.
Among the topics to be discussed at the working conference are concepts and theories about change; building peace and social cohesion; and monitoring, evaluation, adapting, and learning.
"We believe peace practitioners hold unique understanding about how to intervene inside violent contexts and begin to build peace. They have acquired a quality of knowledge that is anchored in experience," Murphy said. "At the same time, academics offer critical perspective. They have acquired knowledge about violence and peace through dense research, analysis, and multidisciplinary frameworks.
"What we seek to do in this symposium is to bring together policymakers, practitioners, and researchers and offer them opportunity to learn from each other and to share their knowledge in ways that will strengthen a more comprehensive and integrative approach to the understanding and building of peace," Murphy said.
Besides those previously mentioned, symposium participants include:
Rachel Bessette, senior business development officer, ARK Group
Natalia Chan, senior advisor for South Sudan, Christian Aid
Jesse Eaves, director of peacebuilding, Humanity United
Bill Froehlich, Moritz College of Law, The Ohio State University
Victoria Gurevich, research assistant, Conflict to Peace Lab
Kara Hooser, research assistant, Conflict to Peace Lab
Sabrina Karim, assistant professor of government, Cornell University
Austin Knuppe, Dickey Center for International Understanding, Dartmouth College
Aila Matanock, associate professor of political science, University of California, Berkeley
Henry Middleton, chief of staff, ARK Group
Jennifer Mitzen, associate professor of government, The Ohio State University
Jan Pierskalla, associate professor of government, The Ohio State University
Mara Revkin, postdoctoral fellow in national security law, Georgetown University
Rebecca Wolfe, Harris School of Public Policy, University of Chicago
Auveen Woods, development officer, Center for Civil Society and Democracy
"This symposium is part of a broader new strategic effort," said Gelpi, who is also director of the Mershon Center. "One of our aims is to serve as a catalyst, bringing scholars together with practitioners outside the university to address the world's challenges in international, national, and human security. We hope this symposium will create an opportunity to learn together in ways that enhance new thinking, understanding, and innovation."
The peacebuilding symposium is the first working conference for Conflict to Peace Lab (C2P), a new initiative at the Mershon Center. C2P develops evidence-based evaluations of policy and intervention models that support international peacemaking, peacebuilding, and social cohesion in fragile states affected by war and political violence.
C2P identifies innovative policy evaluations for research in conflict affected areas, placing priority on conflict sensitivity and cultural appropriateness. Its goal is to produce knowledge that is useful to local communities impacted by violence, accessible to policy makers, and practitioners, and compelling to the scholarly community.
---