September 1, 2020
Welcome Back: Letter from Director Chris Gelpi
Image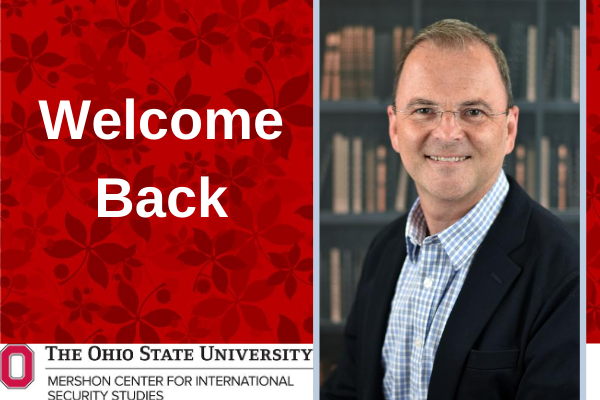 Description
Dear Mershon Community, 
As we usher in this new academic year, we get the unique experience of greeting one another and our students from our homes instead of in lecture halls and campus buildings. While this year has posed a unique set of challenges, that has not stopped the Mershon Center from continuing to focus on our strategic plan and our mission to promote interdisciplinary and collaborative approaches to international, national, and human security.
Our annual kickoff event was held via Zoom meeting this year, and while I wasn't able to greet each of you in person, it was a great opportunity to reconnect and discuss the exciting work and events upcoming for the Mershon Center and our three research clusters. Thank you to all who attended, and if you missed the kickoff, you can view the presentation here.
There are some important updates from the kickoff that I want to highlight and ensure you are all aware of. 
Research Clusters & Call for Proposals
Our three research clusters continue to be a focal point for the Mershon Center and I am thrilled about the work being conducted through each of them. You can get a taste of what's coming up for each cluster by viewing the kickoff presentation.
Each cluster took it upon themselves to administer their own faculty research grant application, including identifying specific foci, priorities, and funding cycles. Each cluster's leadership team will be responsible for selecting awardees. The American Foreign and Military Policy cluster just announced at the kickoff that they are accepting proposals with a deadline on September 30. Click here for more information.
Staffing
We welcomed four new staff members to the Mershon team this summer, including a new communications specialist and three post-doctoral scholars.
Kelly Whitaker is our new communications specialist who will be promoting the work of our affiliates at the center and our clusters. If you have any upcoming interviews or work you would like her help in promoting, please don't hesitate to reach out to her at whitaker.285@osu.edu.
Our three post-doctoral scholars began their two-year term this summer and are working within and supporting each of Mershon's three research clusters – Joseph Stieb (American Foreign and Military Policy research cluster), Yunkang Yang (Security and Governance research cluster), and Trey Billing (Recovering from Violence research cluster).
Mershon Building Move
As you know, the Mershon Center is moving from the building on Neil Avenue to Derby Hall on central campus. This move is still in progress and is a priority for the College of Arts and Sciences, however, we're still working out the details. Due to COVID-19 capacity restrictions on campus, if any faculty with office space in the current Mershon building would like to get items from their office, they should reach out to Kyle McCray to schedule time in the building. 
Changes due to COVID-19
COVID-19 has created delays and roadblocks for many of us – the Mershon Center included. The university still has restrictions in place for travel, which will certainly affect some of the research the center has previously funded. Any currently-awarded projects will be extended to accommodate these travel restrictions and any non-travel-related research can resume as normal.
Additionally, all of the center's events this semester will be virtual and conducted via Zoom. We will address any spring events later this semester based on recommendations from the university. 
Diversity Initiative
In keeping with the high priority that the university places on developing a diverse and inclusive environment, the Mershon Center will be implementing two different strategies to move us closer to these goals. First, in order to ensure faculty and staff are mindful of diversity and inclusion as we generate our programming and activities, we will be developing a diversity pledge regarding all Mershon-funded events and research activities. Second, I am in the process of creating a Diversity and Inclusion Task Force that will study best practices for centers like ours and will make recommendations to me about future changes in policy, practice, and institutional norms. Please feel free to reach out to me if you have thoughts or questions about this process.
Opportunities for Involvement
Last but certainly not least, I want to encourage you to be involved with events, research and activities at the Mershon Center. We operate for you and are inspired by the research, ideas and perspectives you bring to this center and beyond. There is truly no limit to the impact you can make – with the Mershon Center, our clusters, and the world – and we are here to help facilitate that.
This semester, we are continuing our First Fridays speaker series beginning (virtually) on October 2 with some election-specific topics. This speaker series is a great way to share what our faculty fellows are passionate, about and if you are interested in speaking, please reach out to Kelly Whitaker.
If you are not already engaged with a research cluster, I encourage you to reach out to either myself or one of our cluster leaders to discuss how you might get involved. Thank you so much for all you do to help advance the Mershon Center and I look forward to a great year ahead.
Best,
Christopher Gelpi
Director of the Mershon Center for International Security Studies
Chair of Peace Studies and Conflict Resolution
Professor of Political Science
---